Department of Neurology
September 25, 2020
7th Annual Alexander M. Spence Memorial Lecture
---
The Department of Neurology is excited to invite you to the 7th Annual Alexander Spence Memorial Lecture on October 22, 2020 at 4:30pm PST.
For more information, please visit our Grand Rounds page
---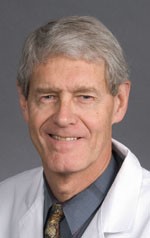 Dr. Alexander M. Spence was born in Lincoln, Nebraska. He graduated from the University of Chicago School of Medicine in 1965 and trained in Neurology at the Peter Bent Brigham Hospital in Boston. Dr. Spence studied at Stanford University as an NINDS Special Fellow, working with tumor neuropathologist Lucien Rubenstein. He spent time as a staff neuro-oncologist at Beth Israel in Boston and was the chief neurologist at Carswell Air Force Base in Texas.
Dr. Spence joined the UW faculty in 1974 and rose to the rank of Professor in 1987. He had a particular interest in novel radioisotope imaging of brain tumors. Dr. Spence had joint appointments in Neurology and Pathology, as well as adjunct appointments in Medicine and Neurological Surgery. He was an active investigator and clinician throughout his career and served as a consultant for the VA Hospital and the Seattle Cancer Care Alliance.
Dr. Spence had a strong commitment to patient care and to finding better ways to diagnose and treat patients with brain tumors. He was the catalyst for developing the Neuro-Oncology specialty at UW and started the first Tumor Board. Dr. Spence trained several generations of neurologists and neurological surgeons in the field of Neuro-Oncology and was a dedicated, highly respected mentor.
Dr. Spence's unique contributions to Neuro-Oncology at the UW were recognized by the creation of the Alexander M. Spence Endowed Chair in Neuro-Oncology, established through the generosity of the family of Ellsworth C. "Buster" Alvord, Jr., MD. Dr. Lynne Taylor currently holds the title of the Spence Endowed Chair in the Department of Neurology.
Dr. Spence loved his wife Marie and children Douglas and Evelyn. He enjoyed skiing, hiking, going to the opera, the Shakespeare Festival in Ashland, Oregon, and making pizza. He passed away in January 2010.
---
For more information about the Spence Chair Endowment, please visit this page:
http://depts.washington.edu/givemed/prof-chair/endowments/alexander-spence/