Department of Neurology
Christina Marra Visiting Scholars Rotation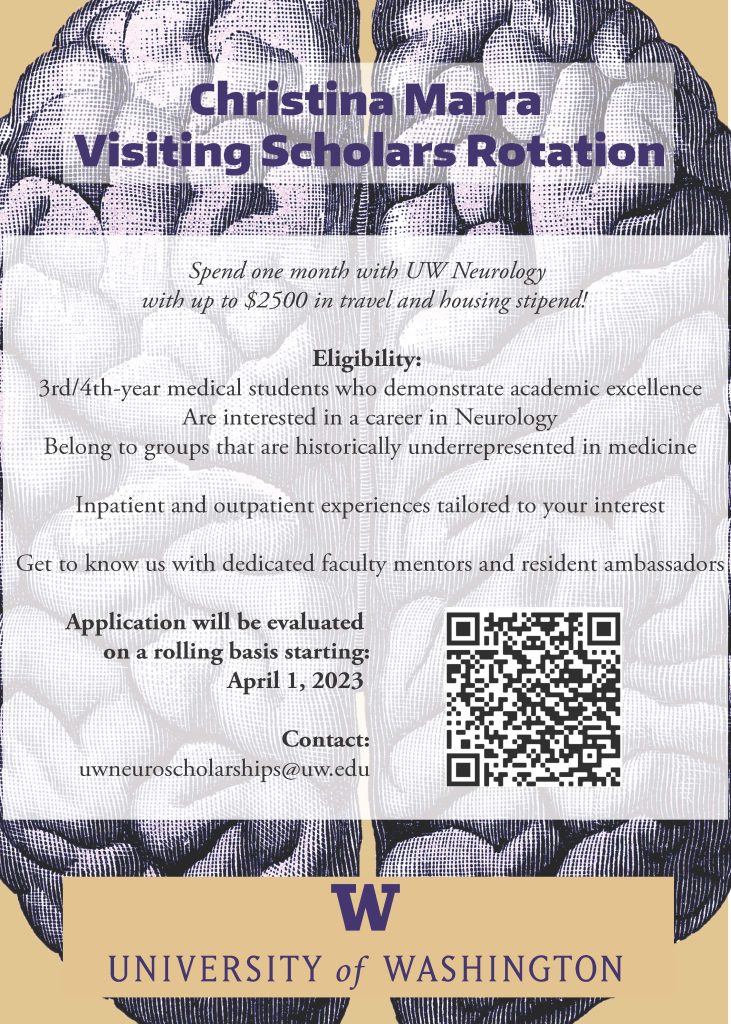 Program Description
Scholarships for medical student rotations will be available from June through December for qualified applicants who are interested in applying to neurology residencies. Funding includes up to $2500 reimbursement for expenses related to travel, housing, and application fees.
Visiting students will spend four weeks rotating through inpatient services and outpatient clinics at the University of Washington and/or Harborview Medical Center. Two weeks will be spent on either the inpatient neurology service or inpatient consult service and 2 weeks will be spent rotating throughout a variety of outpatient subspecialty clinics. We will try our best to accommodate any particular subspecialty interests depending on scheduling availability. Adult and Pediatric are tracks available. During their rotation students will be paired with a faculty mentor and resident ambassador. They will also have the opportunity to meet with the residency program director and the chair of the department. Students who receive the scholarship will be given special consideration for an interview with the University of Washington Neurology Residency Program or the Pediatric Neurology Residency Program as part of the Residency Match.
Click here to view sample rotation schedules for the Adult Track
Click here to view sample rotation schedules of the Pediatric Track
---
Eligibility Criteria
Funding is available to 3rd or 4th year medical students who demonstrate academic excellence, are interested in a career in Neurology and belong to groups that are historically underrepresented in medicine including: Black/African American, Native American, Alaska Native, Hispanic/Latino, Pacific Islander, Asian (Filipino, Hmong, or Vietnamese only).
Applicants must be in good standing at an LCME or AOA accredited US medical school
(If applying as a 3rd year student, it is best if you have completed the first half of your 3rd year clerkships including successful completion of at least one of the following rotations: internal medicine, family medicine, surgery, or pediatrics.)
---
How to Apply
Application Materials should be submitted by April 1st with rolling applications accepted thereafter based on availability. Please submit application materials via email to uwneurologyscholarships@uw.edu with Christina Marra Visiting Scholars Application in the subject line.
Letter of Recommendation (submitted via email to uwneuroscholarships@uw.edu)
Personal Statement (no more than 500 words) (submitted via email to uwneuroscholarships@uw.edu)
CV
Medical School transcript (unofficial)
Please note, students must also complete the UW VSAS application for either NEURL 686 (Adult Neurology Clerkship) or NEURL 688 (Pediatric Neurology Clerkship). You must be eligible for acceptance via VSAS to be selected for this opportunity. For more information on how to apply to UW VSAS visit:
https://www.uwmedicine.org/school-of-medicine/visiting-students-program