Department of Neurology
Letter from the Chief Residents
Welcome to the University of Washington (UW) Neurology Residency Program!  We are excited that you are interested in learning more about us and the unique training that we offer.  Our program produces highly skilled and compassionate neurologists, prepared to care for patients in any setting.  With the guidance of expert and approachable faculty, we have the opportunity to take advantages of the specialized resources that UW offers to develop our own unique passions within the field.  Our graduates consistently go on to competitive fellowships and positions throughout the world, ready to become leaders for the next generation of neurology.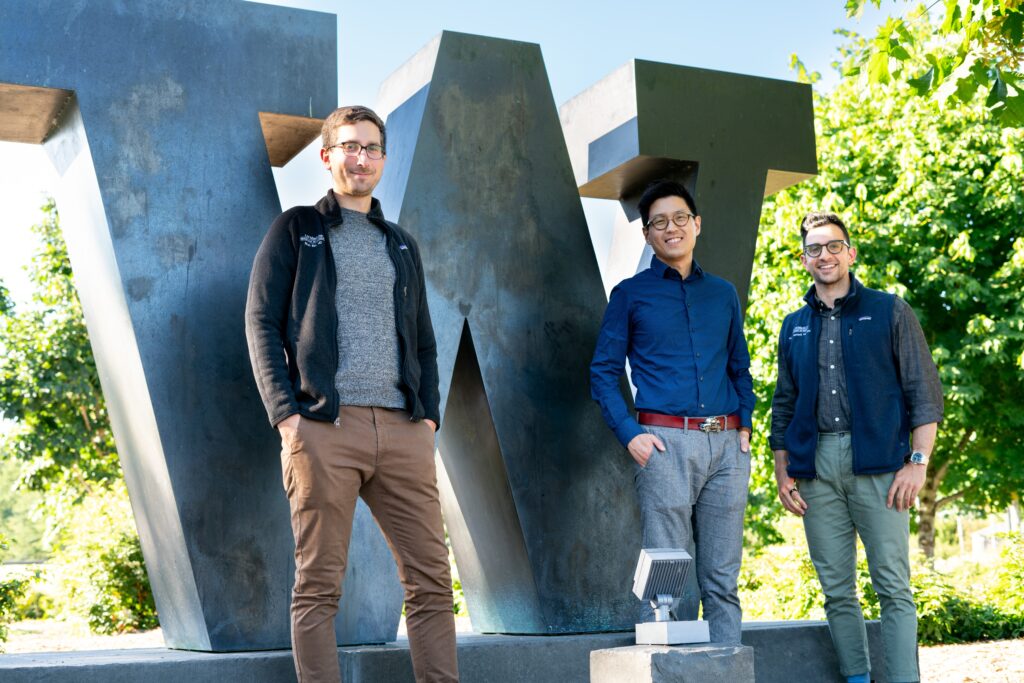 Clinical training: learning from 4 unique bedsides
At UW Neurology, we treasure the unparalleled learning that can only occur directly at the bedside. To that end, we learn at 4 different hospitals spread across Seattle: Harborview Medical Center (the only level 1 adult and pediatric trauma center in the region and the first hospital in the state to be designated as a comprehensive stroke center), the University of Washington Medical Center (the region's premier tertiary referral hospital), Puget Sound Veterans Affairs (VA) Medical Center, and Seattle Children's Hospital. By serving patients at these distinct sites, we are immersed in all aspects of neurology, both inpatient and outpatient.
Whether it be managing acute stroke with the guidance of the world's top neurovascular specialists, diagnosing some of the rarest neuropathologies known in the field, mastering the "bread and butter" of neurology, or deciphering genetic neurologic conditions of childhood, our program provides broad clinical exposure and opportunities for comprehensive training across the entire spectrum of neurologic diseases.  With graduated responsibility and independence built in as part of our training, we become highly confident and competent neurologists ready for the next steps in our careers.
Career development: mentorship through the years, onward to unique paths
In addition to broad clinical exposure, our program provides abundant opportunities to carve out our own unique career paths.  Ever since its humble beginnings by Dr. Fred Plum (of "Plum and Posner's Diagnosis and Treatment of Stupor and Coma" fame!) in 1952, exploring and supporting diverse interests has always been an integral part of UW Neurology.  Reflecting this mission, our faculty includes leaders in a wide range of neurologic subspecialties (including many unique areas such as hydrocephalus and neuroinfectious disease). 
 Faculty are eager to involve residents in clinical care through elective rotations and through research and other scholarly work in their areas of expertise.  In addition to clinical electives, our program offers optional professional tracks to help prepare residents interested in pursuing a career in research or clinical education.  These pursuits are supported and guided by individualized, multi-layered mentorship; our program assigns both a specific faculty mentor as well as a mentorship house system that encompasses a generation of neurologists (attendings, fellows, and residents of all years).  Our residents are also able to take advantage of external support and resources by working with other departments and institutions, such as the Fred Hutchison Cancer Center and Allen Institute for Brain Science, on interdisciplinary projects.  With these abundant opportunities, our residents are able to forge their own unique paths to create a personalized career suited to their interests and long-term goals.
Life in the Pacific Northwest
Any description of our time at UW would be incomplete without touching on the wonders the Pacific Northwest.  Seattle is a beautiful city to live in and we treasure the daily views of the waterfront and Mt. Rainier – especially during busy inpatient months!  Residents live all across Seattle's varied neighborhoods, each with their individual characters and charms.  With its perfect blend of city and nature, many of us discover new hobbies in the Pacific Northwest.  Seattle offers plenty of lush, beautiful, and accessible parks, trails and bike paths, delicious and diverse restaurants, world class museums and galleries, a thriving live music scene, quirky festivals, creative microbreweries, distilleries, and wineries, endless pet-friendly activities, six professional sports teams to cheer for, every winter and summer sport imaginable, and your pick of cozy coffee shops (naturally).  The Pacific Northwest is an amazing place to live and work.  We promise that here you will never be lacking in things to do or people to do them with.
Lastly, as neurology chiefs, we are most proud of our stellar resident colleagues. We are fortunate that our program attracts residents from diverse backgrounds who are a joy to learn from and grow with. We are a tight-knit group and enjoy spending time with one another in and out of the hospital. We often get together to try eateries and breweries, go hiking, kayaking/paddleboarding and take trips to explore some of the gems of the Pacific Northwest. We celebrate each other's achievements, both personal and professional. We are friends at work and outside of work, and that makes all the difference. You can check out what our residents are up to on Instagram @champagne.tap.
We hope that you will consider us in your application process, and we look forward to meeting you during interview season this fall! If questions arise about our program, neurology residency, or life in the Pacific Northwest, please feel free to send us an email at neuro_chiefs@uw.edu.
We wish you the best of luck with the upcoming application season!
Sincerely,
Noah Eby, MD
Sung Ji, MD, PhD
Kasra Sarhadi, MD, MPH