Department of Neurology
Letter from the Chief Residents
Welcome to the University of Washington Neurology Residency Program! We are so excited that you are interested in learning more about us and our residency training. We are extremely proud of our program which offers diverse clinical experiences and has a long history of strong clinical education. Our residents emerge from their residency training as confident, talented, and compassionate neurologists well-prepared to embark on the next stage of their careers.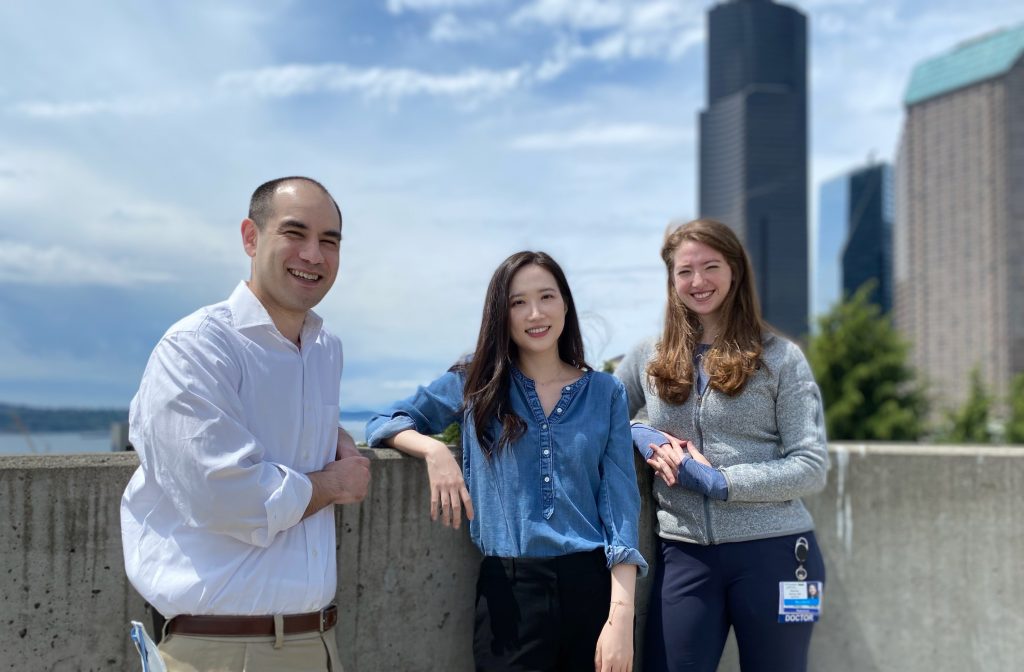 Our training uniquely takes place in four main hospitals across Seattle – Harborview Medical Center, the University of Washington Medical Center, the Seattle VA Medical Center, and Seattle Children's. Each site has its own distinctive patient population, clinical strengths, and educational opportunities. 
Harborview Medical Center is the only level 1 adult and pediatric trauma center in the region and was the first hospital in the state to be designated as a comprehensive stroke center. At Harborview we work closely with our Emergency Department and Airlift Northwest colleagues to rapidly triage and treat patients from diverse socioeconomic and cultural backgrounds across the WWAMI region which includes Washington, Wyoming, Alaska, Montana, and Idaho. We learn from some of the country's top neurovascular specialists on the management of acute stroke and we get early exposure to neurointensive care via our open 34-bed neurocritical care unit.
The University of Washington Medical Center is consistently the #1 ranked hospital in Washington state by U.S. News & World Report and offers highly specialized care across many specialties including oncology and cardiology. At UW Medical Center we see the most diverse and complex neurologic pathologies and learn directly from master diagnosticians with expertise in neuromuscular, neuro- immunology, neuro-oncology, and headache subspecialties. 
The Seattle VA Medical Center provides residents with broad exposure to general neurology and subspecialty care in epilepsy, movement disorders, and neuromuscular diseases. At the VA residents become adept at a variety of neurologic procedures and enjoy many opportunities for detailed case- based learning and senior resident teaching. At Seattle Children's Hospital, one of the nation's premier pediatric hospitals and residency programs, we are immersed in pediatric neurology. We learn from an exceptionally welcoming and supportive team of pediatric neurology fellows and attendings on everything from the intricacies of the neonatal, infant, child, and young adult physical exams, common pediatric neurologic conditions such as epilepsy, pediatric neurocritical care, and the diagnosis and management of rare genetic conditions and other refractory neurologic diseases of childhood. 
In addition to our strong inpatient clinical education, our program offers a wide variety of elective rotations, including neuroimmunology, neuropathology, dementia, hydrocephalus and CSF flow disorders, neuro-oncology, autonomic neurology, neuro-ophthalmology, neurocritical care, and off-site electives in Alaska and Peru. Residents have even tailored elective rotations specifically suited to their career goals such as neuro-infectious disease. Our program's breadth of elective opportunities and dedication to facilitating residents' interests results in well-rounded neurologists. Our graduates consistently report feeling well-prepared for their post-residency careers, whether they be in an academic setting, public hospital, or private practice. 
Our program offers several optional professional tracks to help prepare residents interested in research, clinical education, or neurohospitalist positions for their desired careers. The tracks help residents build their schedules, identify mentors, and develop projects early in their respective areas of interest. All trainees are also encouraged to participate in a variety of research projects with department faculty members. Our faculty are leaders in their respective fields and enthusiastic about collaboration with residents. Apart from labs run by our own faculty at various centers, residents are welcome to work with other departments such as the Fred Hutchison Cancer Research Center on interdisciplinary projects. There are many opportunities for funding and faculty are always willing to give advice on getting a project off the ground.
Another strength of our program is that we are a categorical residency and thus our residents have the wonderful experience of fulfilling their internship year with the University of Washington Internal Medicine Residency Program. During our intern year, we are fully embraced by the Department of Internal Medicine. We build relationships with our colleagues in other departments, gain familiarity with the hospital system and electronic medical records, and most of all benefit from spending our foundational year in one of the most sought-after internal medicine programs in the nation. Our co- interns in internal medicine are first-class trainees from a diverse range of backgrounds and interests with whom we maintain close relationships throughout our own neurology training. 
We aspire to train highly capable and confident neurologists and thus graduated responsibility and independence are heavily built into our residency experience. Through a structured system, we ensure every resident feels appropriately supported at each level of training and always has access to a senior resident, fellow, or faculty member. Our faculty are extremely approachable, dedicated to resident education, and welcome questions at any time. We also have a one-on-one mentorship system that allows seniors and faculty to advise juniors through residency, research opportunities, and planning for the future.
 Any description of our time at UW would be incomplete without touching on some of the wonders the Pacific Northwest has to offer. Seattle is a beautiful city to live in and we treasure the daily views of the waterfront and Mt. Rainier – perhaps most especially during busy inpatient months! Residents live in many of Seattle's varied neighborhoods which each have an individual character and charm. We love our hobbies in the Pacific Northwest and there is something for everyone here. Seattle offers plenty of beautiful and accessible parks, trails, and bike paths, delicious and diverse restaurants, world class museums and galleries, a thriving live music scene, quirky festivals, creative microbreweries, distilleries, and wineries, endless pet-friendly activities, six professional sports teams to cheer for, every winter and summer sport imaginable, and naturally, your pick of cozy coffee shops. The Pacific Northwest is an amazing place to live and work and we promise that here you will never be lacking in things to do or people to do them with.
Lastly, as the neurology chiefs we are most proud of our stellar residents – our program attracts residents from diverse backgrounds who are a joy to train and grow with. We are a tight-knit group and enjoy spending time with one another outside of the hospital. We often get together to try eateries and breweries, go hiking, kayaking, take trips to explore some of the gems of the Pacific Northwest, and many other activities (sometimes even the faculty join in)! We celebrate each other's achievements, both personal and professional. We are friends at work and outside of work, and that makes all the difference.
We hope that you will seriously consider us in your application process, and we look forward to meeting you during interview season this fall. If questions arise about our program, neurology residency, or life in the Pacific Northwest, please feel free to send us an email at neuro_chiefs@uw.edu! You can also check out what our residents are up to on Instagram @champagne.tap.
We wish you the best of luck with the upcoming application season!
Sincerely,
Yeo Won Kim, M.D.
George Plummer, M.D.
Shannon Tierney, M.D.