Department of Neurology
Optional Tracks
Clinician-Educator Track
Designed to prepare residents for a career with emphasis in clinical education.
Practice through experiential learning in multiple teaching settings
Improve specific teaching skills – both content and delivery
Benefit from guided professional development with paired mentorship
Learn the requirements to successfully advance as faculty on Clin-Ed Track
Develop a Teaching Portfolio that can be maintained throughout future career
Promote scholarship with longitudinal education projects
Residents submit applications during Month of Learning, at the end of their intern year.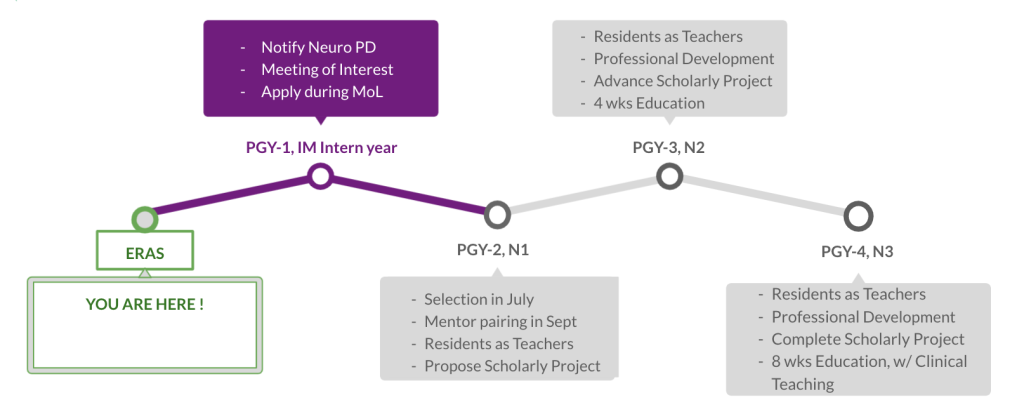 Curriculum
Clinician Educator Track (CET) is built on three foundational components:
Residents as Teachers
Professional Development
Longitudinal Scholarly Project
Residents as Teachers
From one-time seminar events to block training to continuity experiences, CET residents will gain a strong foundation in teaching to a wide range of audiences (medical students to co-residents to faculty) in multiple clinical and academic settings. Including but not limited to: SoM's Neuroscience curriculum; Neurology Clerkship didactics; resident didactics; junior fellow on inpatient service; junior preceptor at outpatient clinics; presentations at well-attended departmental conferences as well as regional symposia.
Professional Development
Through dedicated didactics & workshops, residents will learn the salient components of a clinician-educator faculty Teaching Portfolio, along with optimizing specific teaching skills. Senior residents can elect to serve on the departmental Education Committee. All CET residents will be paired with experienced clinician-educator faculty who will serve as mentors, guiding their teaching career development. These paired mentorship will also support advancement of scholarly projects.
Longitudinal Scholarly Projects
Longitudinal projects encourage exploration of skills vital to a career in academic medicine. In addition to contributing to the CET compendium, these projects also serve as a cornerstone accomplishment as residents embark on a future career in academic medicine. Projects can be drawn from broad topics, but must relate to the scholarship of education:
Acquisition — e.g. curriculum development or educational tools
Integration — e.g. writing review articles or book chapters
Investigation — e.g. formal quality improvement, publish case reports, primary research
Education Elective
A minimum of 8 weeks, and up to 12 weeks, of education-focused electives during residency. CET residents are encouraged to advance their Teaching Portfolios and Scholarly Projects during any Education elective time. Additionally, residents are expected to give weekly didactics or conferences during Education elective time.
Selected weekly teaching opportunities during Education elective.
Monday – VA IM Morning Report
Tuesday – Neuro Noon Conference, N1 didactics
Wednesday – Neurology Lecture Series, HMC bedside teaching, VA IM Chief of Medicine
Thursday – PM MS4 Clerkship didactics, N2/N3 didactics
Friday – VA IM Morning Report, PM MS2 MBB small groups (October)
---
Research Track
Neuroscience research is advancing at a staggering pace. Over the past decade, there have been many important breakthroughs in our understanding of the genetic, cellular, molecular and system-based mechanisms of neurodegenerative disorders, neuromuscular disease, ischemic brain injury, epilepsy, neuro-oncology and neuroimmune mediated disorders. Increasingly, these advances are being translated into clinical neurology. Neurology is positioned at the nexus of scientific and clinical advances in the biomedical field.
The Department of Neurology at the University of Washington (UW) has an extensive research program. A large number of faculty members participate in a wide range of research areas, successfully obtaining research support from federal, state, local and private sources. The scientific efforts of our faculty are considerably enhanced by the world-class research ambiance of the campus as a whole. UW is internationally recognized as a center for neuroscience research and for over twenty-five years has been among the very top universities in total NIH funding. Our graduate training programs, including our Neurobiology and Behavior Ph.D. program and the Medical Scientist Training Program, compete for the best candidates in the United States. The research environment at UW includes the active research programs of neurology faculty who are located at several nearby affiliate sites including Harborview Medical Center (HMC), Puget Sound Veteran's Administration Medical Center, Seattle Children's Hospital and the Fred Hutchinson Cancer Research Center (FHCRC). The research programs at these sites are interactive and synergistic with those on the main campus. The campuses are linked by a convenient University operated shuttle service that is free to faculty and staff.
Specific activities in the Department of Neurology include molecular and cell biology, neuroimmunology, systems and cellular neuroscience, neurogenetics, clinical neuro-pharmacology as well as social and epidemiological approaches to the study of neurological diseases. The UW Neurology department has developed an excellent track record in training not only outstanding clinical neurologists, but also successful academic neurologists/neuroscientists who have gone on to help advance basic and translational research in the field. Graduates of our program have competed successfully for NIH funding and currently hold academic faculty positions at major universities throughout the United States. Many other residents and fellows in our program receive independent support for research from the department in route to obtaining their own funding through NIH or other independent funding mechanisms.
Purpose:
One of our top priorities is to continue to train future leaders in academic neurology who participate in clinical, translational and basic neuroscience. The UW Neurology Residency Research Track Program (NRRTP) was developed specifically to support the research interests of residents during training. In addition, the NRRTP seeks to help research-oriented neurology residents identify and apply for outstanding post-residency research/academic opportunities.
What the program includes:
Up to 6-months of elective time during residency to focus on research
Mentored support to explore careers in academic neurology/biomedical research
A network of basic and clinical research mentors from which NRRTP residents can choose to obtain research exposure and mentorship during residency.
Forums/venues/resources for NRRTP residents to present their research in both informal and symposium based settings.