Department of Neurology
Clinical Facilities
Our program provides you the opportunity to explore the field in a range of healthcare settings. Each of our four facilities is a dynamic, well-run, integrated and technologically advanced medical center. These four hospitals expose our residents to a broad range of patients ideal for neurology training.
All of the University of Washington's affiliated hospitals have full services with respect to neuroimaging, electroencephalography for standard studies and monitoring, electromyography and nerve conduction studies, neurological surgery and rehabilitation medicine. Full-time faculty from the Department of Neurology at the University of Washington staff all of these neurology services and guide resident training.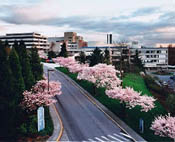 Seattle Children's Hospital has over 400 beds as well as teaching and research facilities. The neurology teaching program is supervised by the University of Washington Division of Pediatric Neurology. Clinical care is provided for a complete spectrum of neurological disease affecting preterm infants to late adolescents. Emphases include epileptic conditions that are unique to childhood (such as infantile spasms), metabolic and genetic disorders, neurodevelopmental syndromes, and neuromuscular disease. Residents participate in an active inpatient and consult service. During clinic rotations they work in a variety of general pediatric neurology and subspecialty clinics including epilepsy, muscular dystrophy, neuro-oncology, genetics, and neurodevelopmental disabilities. The division also operates a four bed video-EEG telemetry unit and provides comprehensive care of children with epilepsy including the ketogenic diet and evaluations for epilepsy surgery. Residents participate in a weekly Pediatric Neurology Conference, weekly resident didactics, and during certain rotations and electives they participate in a brain tumor board, epilepsy conference, brain cutting, and metabolic disease conference.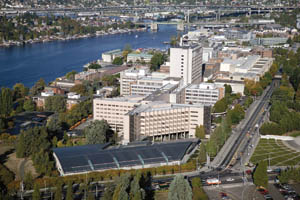 This 810-bed hospital offers world-class specialty and primary care, and is a nationally recognized teaching hospital for the UWSOM. UWMC receives patients from a broad variety of settings, including regional referrals from surrounding states (WWAMI). The neurological service has an average monthly admission rate of 30-50 patients. Our Inpatient Neurology faculty see about 80-90 consultations each month to evaluate neurological complications of malignancy, organ transplantation, and cardiac surgery. Our Outpatient Neurology faculty see patients with movement disorders, neuromuscular diseases, multiple sclerosis, headache, and genetic disease.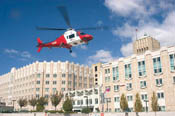 Harborview Medical Center is a 413-bed patient-care, teaching, and research facility in Seattle. Owned by King County and managed by the University of Washington, Harborview is a major regional healthcare facility for the Pacific Northwest and Alaska and is the region's only level one trauma center. The Neurology team includes physicians, pharmacists, and mid-level providers (nurse practitioners). Renowned as a center for neurological care, there are over 100 neurology admissions each month and almost 150 consultations seen through the Emergency Department or as inpatients each month. In addition to inpatient responsibilities, residents attend one outpatient clinic a week that sees over 4,000 patients a year. Harborview is the site of the Regional Epilepsy Center, Sleep Disorder Unit, and UW Medicine Comprehensive Stroke Center. Residents spend time in specialty clinics including Sleep, Movement Disorders, Epilepsy, Neuro-Ophthalmology, and Stroke. Residents participate in weekly EEG sessions, "Death Rounds", Stroke Didactics and Conference, and daily Neuro-Radiology rounds.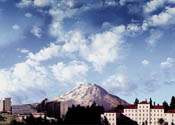 VA Puget Sound Health Care System serves as a VA regional referral center for neurological care across four states. The neurology service averages approximately 300 admissions and 2,000 consults/clinic visits per year. In addition to weekly general neurology clinics, residents have the opportunity to participate in a number of subspecialty clinics including epilepsy, dementia, movement disorders, multiple sclerosis, neuromuscular diseases, and stroke. Interdisciplinary conferences on stroke and neuroradiology are held each week.