Department of Neurology
Pediatric Neurology Residency Program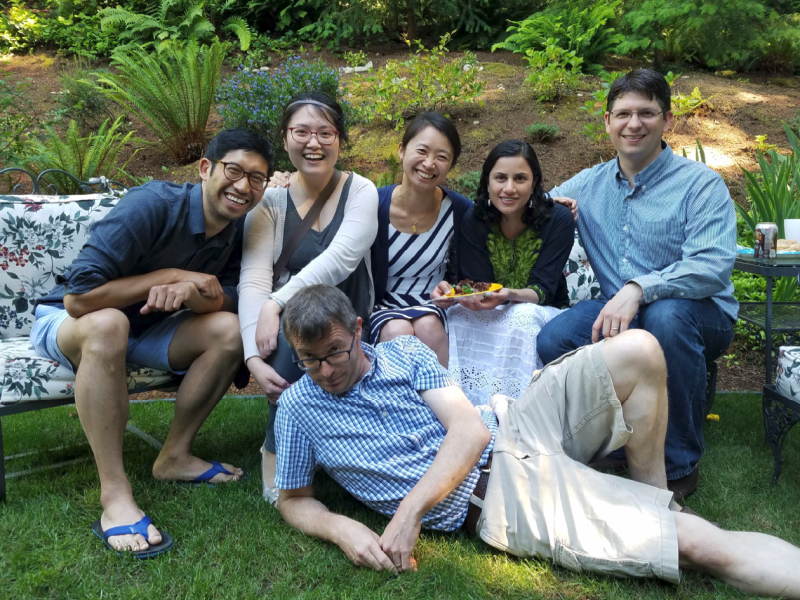 Program Outline
The Pediatric Neurology Residency Program is a five-year categorical program which includes two years of general pediatrics at the University of Washington along with integrated training and educational experiences through the Core Neurology Residency Program, as well as an extended period of intensive training in Pediatric Neurology at Seattle Children's Hospital. Over the three years of neurology residency, trainees will spend 12 months in general (adult) neurology, and 12 months in pediatric neurology. The remaining 12 months are flexible and are reserved for a variety of clinical and neuroscience electives which includes one required month of child psychiatry. The program director is Dr. James Owens
The Program is designed to:
Train physicians to become competent, skilled clinical pediatric neurologists by providing over three years progressive experience and responsibility in the care of both adult and pediatric patients with neurological conditions.
Provide exposure to a number of ancillary disciplines including but not limited to neuropathology, electroencephalography, electromyography, neuroradiology, neuro-ophthalmology, neurosurgery, psychiatry, neurodevelopmental disorders and rehabilitation medicine.
Provide a broad educational experience in the basic neurosciences to form the foundation for understanding and applying the principles of clinical neurology, and to prepare physicians for academic careers.
---
First year of Pediatric Neurology Training (PN1)
The first year of training focuses primarily on clinical (adult) neurology. However, prior to starting this concentrated adult neurology training, the resident will spend one four week block at Seattle Children's Hospital as a neurology junior ward resident. This initial clinical experience will allow the trainee to learn some of the essential skills of obtaining a neurologic history, performing a neurologic exam and developing a differential diagnosis in a more familiar pediatric setting, prior to joining the adult neurology clinical services. For the adult neurology training, residents rotate through the primary hospitals of the Neurology Residency Program of the University of Washington, including the University of Washington Medical Center, Veterans' Affairs Puget Sound Health Care System, and Harborview Medical Center. The primary goal of this year is to become competent in general adult neurology, including care of acute and chronic neurologic problems and to become adept at exam-based localization of neurological lesions. Residents begin participating in program-wide educational programs including weekly grand rounds, and core lecture series. In addition to patient care responsibilities on the ward and in outpatient adult neurology clinics, residents also have two elective blocks in clinical neuroscience focused in adult neurology such as EEG, neuropathology, and neuroradiology (among others). Residents also participate in the teaching of medical students during their required neurology clinical clerkship. While being immersed in adult neurology, during this year the resident also begins seeing pediatric neurology outpatients in his or her own weekly continuity clinic.
---
Second year of Pediatric Neurology Training (PN2)
At this time the curriculum of the pediatric neurology program diverges from the standard curriculum of the general neurology program. During the second year, the pediatric neurology residents complete six of the required 12 months of clinical pediatric neurology training. During these months, the residents rotate through various pediatric neurology clinics and serve as Chief Resident of the Pediatric Neurology service at Seattle Children's Hospital. Two four-week blocks are reserved for completion of the clinical (adult) neurology training requirements including a final out-patient month and clinical neuroscience elective. The remaining four months are used in flexible elective time, completing half of the required 12 months. During the elective months, residents can choose from a wide range of opportunities including neuropathology, EEG/epilepsy, neurosurgery, neuroradiology, and EMG. During one of these flexible months, the resident will rotate on the child psychiatry service. Each resident's program is individually tailored to meet core educational needs and the interests and career goals of the resident. The Chief Resident months provide outstanding clinical training as Children's is the tertiary referral center for several states. This provides opportunities to see the complete range of neurological illness encountered from pre-term infants to late adolescents. In addition to a busy ward and consult service, residents also benefit from experience on the EEG telemetry unit. Residents also work in a variety of general and subspecialty pediatric neurology clinics (including refractory epilepsy, neuromuscular, neurooncology, genetics, and developmental pediatrics clinics), where cases are staffed by members of the full-time faculty. The residents are also responsible for organizing and presenting at weekly case conferences and several times a year at Neurology Grand Rounds. In addition, the resident supervises and assists in the teaching of junior residents and medical students. Throughout the year, the resident continues to see patients in a weekly continuity clinic.
---
Third year of Pediatric Neurology Training
In the final year of the program, the resident again has six months of clinical pediatric neurology training and six months of flexible elective time. The resident refines skills in clinical pediatric neurology and is expected to develop a more prominent role in teaching of residents and medical students. The resident again sees patients of his or her own in a weekly continuity clinic.
Applications
As ours is a five year categorical program (which includes two years of training in general pediatrics), individuals generally apply during their final year of medical school. For information about the Pediatrics Residency Training Program, please go to their web site at http://www.seattlechildrens.org/healthcare-professionals/education/uw-peds/
The University of Washington Pediatric Neurology Residency Program has three training positions per year. These positions will be filled in the March match via the National Resident Matching Program (NRMP). Applications are submitted via the Electronic Residency Application Service (ERAS). Applicants do not need to apply separately to the University of Washington pediatrics program.
Applications will be reviewed by both the pediatric neurology program and the general pediatrics program. After review, you will be notified via e-mail if we would like to move your application forward by inviting you for an interview. Joint two-day interviews for both programs will then be arranged for selected applicants. In 2020-2021, due to the COVID-19 pandemic, all interviews will be conducted remotely. Interviews will be held on selected Tuesdays in November, December and January. The interview day will be conducted via Zoom. They will include an overview of the program by the Program Director and a meeting with the Division Chair. There will be interviews with faculty members and you will have the opportunity to attend Neurology Resident Conference. There will also be a special session with our current residents.
Recommended Resources for Pediatric Neurology Applicants
We encourage you to view these resources:
Current Residents
| | |
| --- | --- |
| Resident | Medical School |
| Benjamin Dean, MD, PhD | Vanderbilt University |
| Jessica Hauser, MD, PhD | Baylor College of Medicine (PhD, Harvard) |
| Daniel Hurwitz, MD | University of Texas – Galveston |
| Jennifer Keene, MD,MS, MBA | Case Western Reserve |
| Angad Kochar, MD | Icahn School of Medicine at Mt. Sinai |
| Laurel Persa, MD | University of Oklahoma |
| Brittany Sprigg, MD | UCSF |
| Patricia Weisner, MD, PhD | University of Illinois – Urbana |
| Kirsten Wilhelm, MD | Michigan – Marquette |
Future Residents
Resident
Medical School
Vivian Chiang, MD
University of Texas Medical Branch
School of Medicine
Felicia Lombardi, MD
University of North Carolina, Chapel Hill
Sophia Masi, MD, PhD
University of Washington
Nicholas Meyer, MD
Medical College of Wisconsin
Jennifer Meylor, MD
University of Wisconsin
Rebecca Wu, MD
University of Washington
Recent Graduates (2006-2020)
Recent Graduates of Pediatric Neurology Program (2006-2020)
Resident
Post-residency position
Current Position
Ian Miller, MD
Clinical Neurophysiology Fellow
Miami Children's Hospital
Director of Neuroinformatics
Miami Children's Hospital
Jessica Litwin, MD
Sleep Medicine Fellow
Northwestern University
Assistant Professor of Neurology
UC San Fransisco
Stephanie Robinett, MD
Pediatric Neurology Practice
Hattiesburg, MS
Pediatric Neurology Practice
Charlotte, NC
Mario Coleman, MD, MPH
Pediatric Neurology Practice
Oklahoma City, OK
Pediatric Neurologist
Children's Hospital Colorado
Colorado Springs Campus
Randal Richardson, MD
EMG Fellow
University of Washington
Pediatric Neurologist
Gillette Children's Hospital
St. Paul, MN
Timothy Feyma, MD
Pediatric Neurologist
Gillette Children's Hospital
St. Paul, MN
Pediatric Neurologist
Gillette Children's Hospital
St. Paul, MN
Olufemi Soyode, MD
Pediatric Neurologist
Helen DeVos Children's Hospital
Grand Rapids, MI
Pediatric Neurologist
Helen DeVos Children's Hospital
Grand Rapids, MI
Alana Golden, MD
T32 Mitochondrial Medicine Fellow
University of Washington
Pediatric Neurology Practice
Portland, OR
Ann Hyslop, MD
Clinical Neurophysiology Fellow
Miami Children's Hospital
Epileptologist
Miami Children's Hospital
Alexa Craig, MD
Neonatal Neurology Fellow
Washington University
St. Louis, MO
Neonatal and Pediatric Neurologist
Barbara Bush Children's Hospital
Portland, ME
Hannah Tully, MD
T32-Neurogenetics Research Fellow
University of Washington
Assistant Professor Neurology
University of Washington
Seema Afridi, MD
Clinical Neurophysiology Fellow
University of Washington
Pediatric Neurology Practice
Bellingham, WA
Jinfon Ong, MD
Pediatric Neurologist
Dell Children's Hospital
Austin, TX
Pediatric Neurologist
Dell Children's Hospital
Austin, TX
Joanna Wrede, MD
Sleep Medicine Fellow
University of Washington
Assistant Professor of Neurology and Pediatrics
University of Washington
Christopher Beatty, MD
Clinical Neurophysiology Fellow
University of Washington
Director of Pediatric Epilepsy
Norvant Health Pediatric Neurology
Charlotte, North Carolina
Ping-Ru Teresa Ko, MD
Sleep Medicine Fellow
University of Washington
Pediatric Neurologist
Kaiser Permanente
Santa Clara, CA
Stephanie Randle, MD
Clinical Neurophysiology Fellow
University of Washington
Clinical Assistant Professor of Neurology
University of Washington
Catherine Otten, MD
Clinical Assistant Professor of Neurology
University of Washington
Clinical Assistant Professor of Neurology
University of Washington
John Carter, MD
Sleep Medicine Fellow
University of Washington
Assistant Professor, Sleep Medicine
Case Western Reserve University
School of Medicine
Jason Lockrow, MD, PhD
Clinical Neurophysiology Fellow
University of Washington
Assistant Professor
University of Washington
Sarah Bauer Huang, MD, PhD
Neonatal Neurology Fellow
Washington University, St. Louis
Assistant Professor of Neurology
Washington University, St. Louis
Juliane Gust, MD, PhD
Acting Instructor of Neurology
University of Washington
Acting Instructor of Neurology
University of Washington
Thomas Foutz, MD, PhD
Epilepsy Fellow
University of North Carolina at Chapel Hill
Instructor, Pediatric Neurology
Washington University, St. Louis
Anisha Schwarz, MD
Neuromuscular Fellow
University of Washington
Staff Neurologist
Mary Bridge Hospital
Tacoma, WA
Ava Lin, MD, PhD
Neuromuscular Fellow
Stanford University
Assistant Professor, Neurology
University of Michigan
Pin-Yi Ko, MD
Clinical Neurophysiology Fellow
University of Washington
Staff Neurologist
Mary Bridge Hospital
Tacoma, WA
Jeremy Chan, MD
Sleep Medicine Fellow
University of Washington
Sleep Medicine Fellow
University of Washington
Michelle Kerr, MD
Clinical Assistant Professor, Pediatrics and Neurology
University of Washington
Clinical Assistant Professor, Pediatrics and Neurology
University of Washington