Department of Neurology
February 27, 2023
UW Medicine Neurology on Pace to Transform Rural Health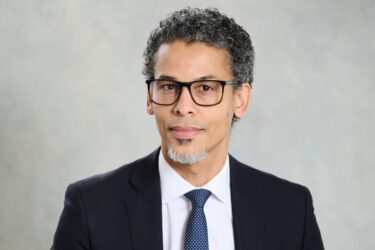 For Thabele (Bay) Leslie-Mazwi, MD, the UW Medicine Department of Neurology is more than the only group of academic medicine specialists providing neurological services to Washington state and the Pacific Northwest. It's a team of providers uniquely positioned to transform care for the thousands of people living in the area's most remote locations.
"For rural populations in America, the picture of healthcare is not a good one. They have higher mortality and chronic disease rates than urban groups, and their life expectancy is lower," says Leslie-Mazwi, Chair of the Neurology Department. "They suffer from issues of health equity on an immense scale because they simply don't have enough access to care."
Boosting access is where the Neurology Department can make the biggest impact, he says. By using their expertise in clinical care, research and education, providers can change how patients receive life-altering or life-saving care.
Reaching more patients
Truly moving the needle on neurological care means investing in methods that can deliver timely services to more patients. The question, Leslie-Mazwi says, has been how to do it.
"Figuring out how to provide access to specialty care to all these people in all these places is the challenge," he says. "It boils down to dividing our efforts into two categories: bringing the patient to us and taking care to the patient."
Transporting patients: Through UW Medicine's partnership with Airlift Northwest, providers can transport patients experiencing cerebrovascular, neurotrauma and neurocritical care emergencies directly to one of three landing pads on top of the Harborview Medical Center. This 24/7 service, including five helicopters and four jets stationed across the region, transported almost 500 patients needing emergent or urgent neurological care in 2022, among the thousands of patients transported to UW Medicine in Seattle. "Some of these patients are flying for six hours in one of our fixed-wings to reach our services," says Leslie-Mazwi.
Taking care to patients: Fortunately, not every case is an emergency. In these instances, providers use three strategies to meet patients where they live.

Travel: Providers from UW Medicine Neurology travel to remote communities — from the Olympic Peninsula to Alaska to Idaho — to meet patients where they are, in concentrated clinics held in partnership with health centers in these locations.
Telehealth: Many providers take themselves to the patient's location virtually. Through video consultation and telestroke services using telemedicine, they can connect with the patient directly or with the referring provider.
ProjectECHO: Instead of working directly with patients, UW Medicine providers meet virtually with physicians in rural areas to discuss cases. Currently, 68 remote sites connect for provider-to-provider video consultation programs covering dementia, multiple sclerosis, autism and other conditions. It's an opportunity for rural physicians to ask patient-centered questions, Leslie-Mazwi says. "When these clinicians share their cases, we have the chance to enhance the expertise and knowledge within the provider community. We're not providing direct patient care, but we're informing clinicians about what to do in these situations, in a collaborative and inclusive learning environment. This is a data-driven method to efficiently enhance patient outcomes."
Expanding neurological research
Part of the health inequity rural populations experience stems from their lack of opportunities to participate in research. Large urban hospitals typically conduct clinical studies, including those focused on neurological conditions. As a result, patients in remote locations may not have access to new medications or therapy options under investigation.
UW Medicine neurologists hope to open this door for more people in remote locations.
"One of the things we are working on doing better — and doing more of — is including rural populations directly in our research," Leslie-Mazwi says. "We need to do a better job of understanding what these communities face. Telehealth is a crucial part of this effort."
Training the next generation of physicians
The department is also dedicated to changing the future face of neurological care. That effort means giving residents and fellows hands-on experience in providing services in rural locations.
"We consider our entire land region an immense classroom for our trainees," Leslie-Mazwi says. "We have multiple sites where our trainees can interact with and learn from more than 200 courtesy clinical neurology faculty, who provide extraordinary neurological care in a range of environments."
These faculty are invited to participate in department activities, like Grand Rounds, and host UW Medicine trainees in their local centers.
Taking on additional challenges
Increasing rural access to care isn't a challenge UW Medicine neurologists tackle for the WWAMI alone, though finding answers to these problems will transform healthcare delivery in the WWAMI region's rural locations. The ultimate impact has the potential to reach much farther.
"I remind our faculty that the neurological solutions we're testing, refining and disseminating are solutions that can be applied in most areas of the world, where there are a limited number of neurological experts and large geographies that need care," Leslie-Mazwi says. "I feel like we're all part of something bigger than our work at UW Medicine alone. We strive to take on challenges and find solutions that will have an impact globally."